Most Popular Study Abroad Destinations
Wanna study abroad and don't know where to start? You are at the right place. Register your interest and we will look after you.
Why Choose FOREIGN SHORES ?
To be one of the most trusted organizations by helping students, build their career through advice on the global education system. Our services are focused on students. We believe in providing impartial and fair advice that is not overly influenced by commercial interests. This means that we will not push a student towards a specific choice of the institution just because it may be beneficial to us in some way. It is very important for us that the choice of institution and courses should meet your needs. We at FOREIGN SHORES, have unique resources to give you the step-by-step guidance for the entire process. Our systematic approach and representation of the universities immensely helps the students who apply through us.
Reliable and Experienced Counseling
Which career to choose? This is the first question that comes to the mind of many students. FOREIGN SHORES aims to provide reliable and experienced counseling to students. We will guide you to choose the right country, right university and a right course that perfectly fits your career and goals to study, work and live abroad. And…
Read More
About Director
Director Mr. Amit Jain is an alumnus of the prestigious 'THE KVB Institute of Technology' Sydney, Australia and 'Natcoll Design Technology' Auckland, New Zealand. Having studied, worked and lived in foreign for over a decade, Amit Jain has impeccable knowledge about overseas education system and lifestyle. You will be presented with a true picture of studying abroad at FOREIGN SHORES.
Recent News about Higher Education in Abroad
Stay Connected for the Latest Updates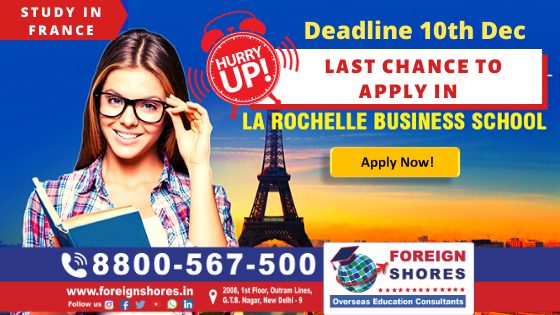 Posted On :
No Comment
La Rochelle Business School La Rochelle Business School records the highest increase in ranking positions – The Financial Times has today published its world ranking of the best Masters in Management (Programme Grande École). La Rochelle Business School rose to 66th place worldwide and recorded the highest increase in ranking positions, moving up some 28 places.It…
Read More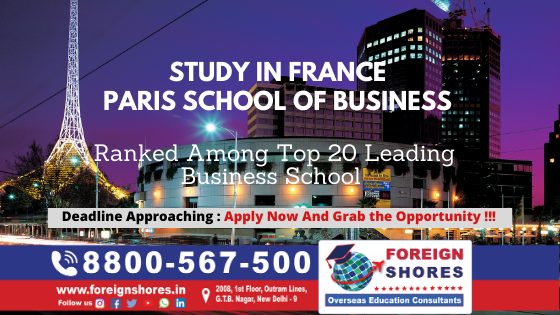 Posted On :
No Comment
Want to Study Abroad? STUDY IN PARIS : PARIS SCHOOL OF BUSINESS : Ranked Among Top 20 Leading Business School – Deadline Approaching : 6th December – Apply Now And Grab the Opportunity !!! *BBA :- 9400 Euros Per Year**International MBA:- 16,900 Euros**Msc :- Starting with 13250 Euros* Discuss your profile with #ForeignShores Please contact…
Read More